So one of the La manchin goats at the farm went into labour today. She was havig twins, and they got entanlged in the birth canal, she was trying to force push them out, and she began hemeragging, so we had to get the kids out, and my hands were the only ones that could fit into her vulva, and deeper into her birth canal where they were stuck. If I hadn't paid attention in vet class, they would have died! God it was so cooooool! And if the second one makes it through the night, I get to keep it as my own pet goat
Here is me shaking it to get fluid out of it's lungs right after I pulled it out of the birth canal: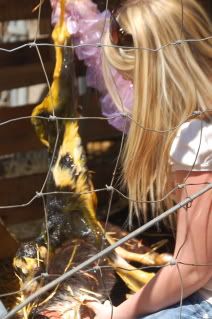 Rubbing it with a towel to clear it's breathing passage, clean it so it didn't get effected, and keep it plentry dry and warm
Force feeding her colostrum that I just milked, she needed it for the antibodies, but she was to weak to milk on her own
Me and my goat!
These ones are actually for milking for goat cheese and just milk. So I can keep it as a pet
it's staying in my backyard (after it's weened) until someone calls the city, then I'll move it to the farm! lol
Edit:
And of course my sunburn from being in the sun for 3 hours in a row