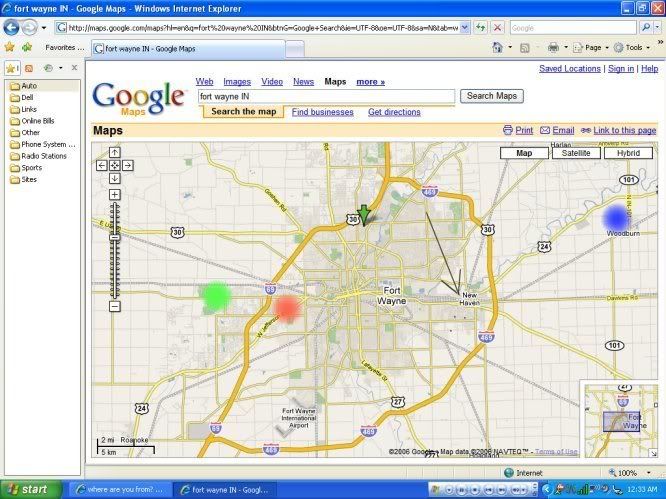 Ok so I actually had work to do today… but I was driving for the most part. It takes me at least 20 minutes to get from one side of town to the other through downtown because Fort Waynes roads suck complete and major ass. They put 2 major roads through downtown, the rest cut off or dead end into other streets.
Red Dot: My first job this morning. I was there for 5 minutes resetting the open-close time on the phone system (it'll automatically switch between open/closed greetings on the VM). Yay!
Then I had to head out to the Blue Dot. The guy from A1 door blew up my door phone while he was testing the power locks by shorting the wires… yeah the wires that were DIRECTLY CONNECTED TO MY DOOR PHONE. sheesh.
So I'm leaving there and call Kathy, she says that Scott's Chestnut plaza (The Green Dot) has a phone not working. Seriously now. I was just out that way not 45 minutes ago. So I get on US30, and head around the southern part of 469, onto I69 and over to chestnut plaza.
I figure it's the phone that is acting up after investigating the coil cord, so I have to drive back to New Haven to get a new phone sight Notice the location difference between the green dot and where it says New Haven on the map…
On my way back Kathy calls and says go down to Broadway to hook up some lines. Ok, a little detour. That's fine.
So I go and get those lines taken care of and then head back to New haven. I grab the phone after lunch as Kathy says hey I need you to go downtown and hook up some phones.
Ok, I'm headed that way anyway. No biggie. 20 minute job.
WRONG. The guy is running for mayor and wants a temp. call center set up. They have a 440CT phone system.
What do i have to do? Figure out the lines, the system, program via my POS laptop and curse several times. I ended up having to swap cards to another port to get it to work. 20 minutes turned into 2.75 hours…
I leave there AT 5 PM and still have to drive all the way back to the green dot to replace the phone… on Jefferson and Indianapolis roads… in rush hour traffic. blah.
I made a full circle around I69/469 today. I haven't had to do that in one day in a long time.
By the time I made it back home (roughly where the black arrow is pointing), it's 6 pm.
Honestly, I'm glad that I sat at home all day Wednesday, because I used so much gas today I would have had to make another pitstop to get gas on the way home.